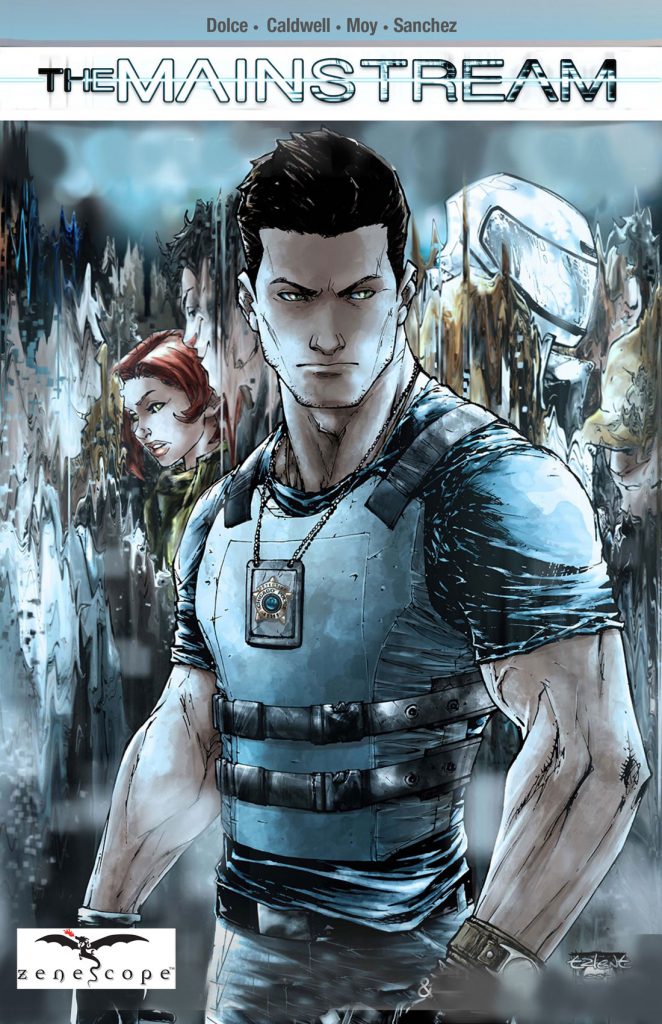 New Graphic Novel Offers Captivating Detective Thriller
What Happens When Alternate Realities Collide?
(NEW YORK, NY – October 23, 2017) When fans of comic books, graphic novels and superheroes gathered in New York City recently for the nation's largest annual ComicCon, many of them had their first glimpse of "The Mainstream," a riveting detective thriller slated for release as a full-color five-issue series by Zenescope Entertainment debuting in April 2018 at the popular C2E2 convention in Chicago. "The Mainstream" is scheduled to be listed in the Diamond Distributors catalog in February 2018, with national distribution two months later.
A lifelong fan of comic books and graphic novels, Michael Dolce says the first creative spark for this project came from a conversation with his friend Darren Sanchez, founder of After Hours Press. Dolce and Sanchez began pondering the intriguing question, "What if there are people on this earth who don't belong?" They shared this idea with their friend Talent Caldwell, known for his work with DC and Aspen Comics. Together, they began to envision a police force tasked with preventing malicious forces from "alternate realities" from breaking into ours. When those forces manage to cross through, setting off a string of cataclysmic events – including a grisly homicide — it's up to Chicago police detective Nate McAllister and his partner Dexter Combs to send these villains back where they belong. Nate and Dex enlist the help of a covert, inter-dimensional police force known as "The Keepers," to accomplish this near-impossible task.
Five years in the making, "The Mainstream" is the collaborative result of an all-star team with impressive credentials in the world of comic books and graphic novels, a field that Michael Dolce says made it possible to envision a story of this "multi-dimensional" magnitude. With this "canvas," it has become possible to tell a story on a truly epic scale. "With great artists and storytellers," Dolce says, "anything is possible. To share this story with the world as a film or TV show first would have required a huge budget and a cast of thousands. As a graphic novel we can easily tell the story the way we want to tell it and introduce it to the world."

Graphic novelist and radio host Michael Dolce has been active in the field of comic books and graphic novels since 2001, with the release of his self-published comic book "Crossfire." More recently, Dolce is known as the creator of self-published indie "The Sire," a popular graphic novel series published in 2006, and the co-creator of the Image Comics conspiracy thriller "Descendant." He also spent five years as a contributor to the industry bible, "Wizard" magazine. "The Mainstream" gives Dolce a chance to build on other work he has done with Zenescope Entertainment, in addition to his contributions to that firm's popular series, "Grimm Fairy Tales" and "Grimm's Tales of Terror." Earlier this year, Dolce introduced a new comic, "The Undone," funded through a Kickstarter campaign.
Dolce's co-writer and longtime friend Talent Caldwell is perhaps best known for his work for DC Comics, illustrating the "Superman: Godfall" series, and he has also contributed to other widely acclaimed projects for both DC Comics, Marvel and Aspen Comics. The Mainstream marks his first writing credit and a return to full time comic book work, coming off his stint in animation.
As CEO and Publisher of After Hours Press, writer Darren Sanchez has been active in the industry since 1993, and has worked with Valiant/Acclaim Comics and with Wizard Entertainment.
Rounding out the "Mainstream" team is illustrator Tony Moy, a mixed media artist whose work has been featured in "X-Files" and "Dungeons and Dragons."
Having worked on a number of projects for Zenescope Entertainment, Michael Dolce brought the concept to the company's co-founders Ralph Tedesco and Joe Bruscha, and they shared his excitement about moving towards publication and distribution. A leading publisher of comic books and graphic novels, Zenescope Entertainment was founded in 2005, the year the firm first released the first issue in their popular "Grimm Fairy Tales" series. A number of Zenescope Entertainment's titles, including "Grimm Fairy Tales," "Wonderland," "Van Helsing" and "The Piper" have been adapted for film and television.
Michael Dolce says that he is excited to see how enthusiastically the entertainment industry, including television and movie studios, have embraced stories, writers and illustrators from the field of comic books and graphic novels. With its "high concept" story and engaging characters, Dolce believes there is an excellent chance we will be seeing "The Mainstream" on the big or small screen in the very near future. Much as "The Matrix" became a box office hit in theaters worldwide, he believes this blend of Sci Fi and detective drama will have wide appeal.
For more information, visit www.mikebooks.com and www.zenescope.com.
To coordinate media coverage, contact:
Tom Martin – Tom Martin Media, LLC
203-297-2137