Welcome To Michael Dolce.com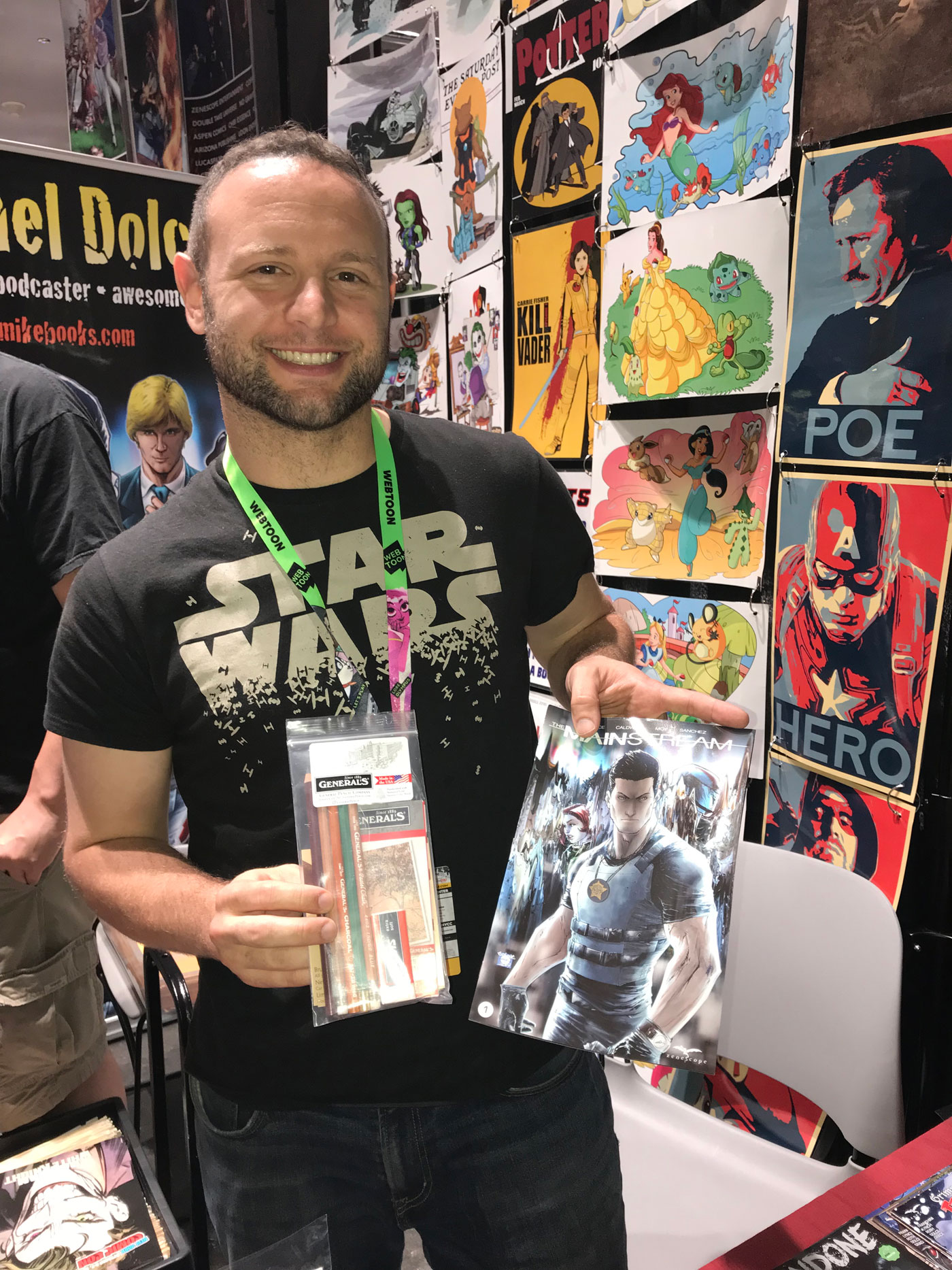 Michael Dolce: Writer • Artist • Podcaster • Awesome Dude
Michael Dolce is an accomplished writer, graphic novelist, podcaster and web guru. His debut comic book was a self-published comic book called Crossfire: The Beginning, the pre-cursor to what would later become The Sire. In 2002, Dolce was hired at Wizard Entertainment and worked as a research assistant for Wizard Magazine before being promoted to Web Site Editor a position he held for three years.
In 2006, Dolce left Wizard to launch the Indie superhero comic book The Sire. The Sire tells the story of Donald Wright, a reluctant hero trapped inside an alien costume that forces him to battle the forces of evil. The first mini-series spawned a follow up called The Sire: Revelations in 2007 and gained critical praise for Dolce and artist Daniel Leister. Both Dolce and Leister would go on to contribute work at Zenescope Entertainment as part of their Grimms Fairy Tales and Return to Wonderland series' respectively.
Following the success of The Sire, Dolce went on to make his Image Comics debut as colorist for the sci-fi book M-Theory. This lead to the launch of his first Image creator-owned series Descendant co-created with filmmaker Marcus Perry and featuring art by Mariano Navarro.
In 2012, Dolce brought the Sire back to print with the convention-only exclusive for The Sire #7. Picking up where the trade paperback left off, the series continues to published on a yearly basis with the recently released Sire #10.
In 2014, Dolce moved into the Kickstarter arena, successfully funding his first ever Kickstarter project called The Undone. The Undone tells the story of an upstart, Dylan Sharpe, with the ability to rewind time. Attempting to cash in on his power at the stock market Sharpe is confronted by an Illuminati of traders with the identical power he possesses. The series is currently in development as a web series.
In 2016, Dolce launched the comic book movie radio show and podcast called Secrets of the Sire. Heard live every week on YouTube, the show has had such notable guests as musician Chris Cornell, actors Kevin Bacon, True Blood's Kristin Anapau, Paul Reiser and House of Cards' Kevin Kilner. In 2017, Dolce added Hassan Godwin as co-host to the show.
In 2018, Dolce announced his new project, The Mainstream, once again reuniting with Zenescope Entertainment. The series, which sold-out across the distributor level, debuted in 2018 and was co-created by Talent Caldwell, Tony Moy & Darren Sanchez.
In 2019, Dolce announced the creation of Sire Studios, a multi-genre IP Production Company. In 2020, he announced a partnership with Rogue Matter as the head of their podcast network and collaborating on new IPs.
In 2021 he was named Executive Director of Rogue Matter, overseeing creative projects and the RM podcast network.
You can view his work on Comixology, Amazon, iTunes or your local comic book shop.